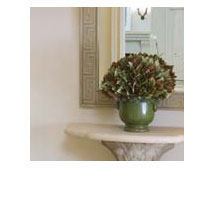 Jane Frankel Interiors, based in Cleveland, Ohio, specializes in high-end residential interiors and prestigious country and city clubs. The firm is known for its professional, unparalleled service and rooms that appear effortlessly elegant and luxuriously comfortable. Jane has a unique eye for refined furnishings, art and objects. Her designs run the gamut from classical to contemporary, skillfully mixing the old and the new. She believes rooms need good bones, style and personality.

Jane oversees all of the firm's projects from conception to completion - working closely with architects and contractors. In business for over thirty years, the firm has long-standing relationships with many fine artisans.

The firm also consists of Laura Pratt, business manager. Jane is actively involved in teaching design. She has taught interior design interns from the prestigious Cleveland Institute of Art and Kent State University plus other colleges and universities in the Cleveland/Akron area. Jane is also busy mentoring high school students at Cleveland School of the Arts.